Week beginning 27th September - It's Cool to be Kind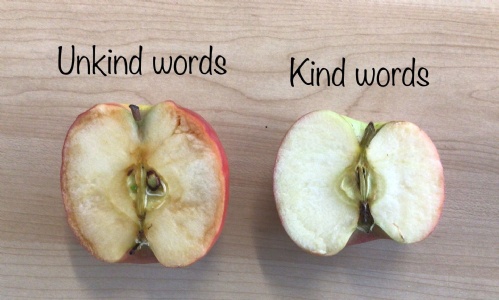 This week P6/7 have been focussing on being kind. We all know that it is very important to be kind, but we got a visual reminder of the damage that unkind words can do when Mrs Knighton came to help us with this apple experiment.
To apple on the right we were very kind, using friendly and caring words.
To the apple on the left we were very unkind, using mean words and hurtful language.
When we cut both the apples open we were able to see the impact that the words had on the apple.
The apple we were kind to was fresh and strong while the apple we were unkind to was bruised and damaged inside.
This really helped us to see the impact of the words we use and reminded us that even if we can't always see it our words can have an impact on people (and apples!)
Next term we are going to be looking at ways to promote kindness in our class and help the rest of the school to be kind too because it's always cool to be kind.