21/22 Diary No.4: Leading our school...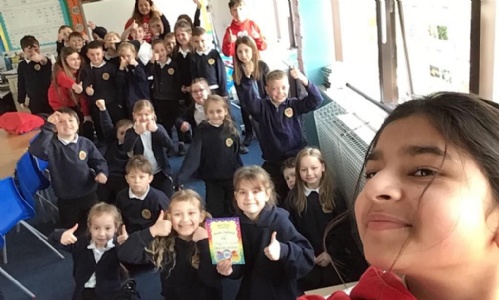 WHAT OUR SCHOOL HAS BEEN UP TO!
Firstly, some of the House Captains helped the Pupil Council to do a 'danceathon'. We raised money to help Edinburgh Sick Kids Hospital.
Next we have decided to start making our P7 Leavers Yearbook design which will have stuff about most of the funny stuff in the year!😃
We also did a cross-country event with the whole school. The people who won for Eyemouth were: P5 - Daniel and Ellie, P6: Josh came second and Stella came first. Then for the P7 boys Liam Wilson came first and for P7 girls Carly Jade won!
On World Book Day there was a dress up or dress down day where dress down meant casual clothes but dress up is when you get in a costume. We saw loads of amazing costumes which made our day!📚📖
The most exciting thing the P7s have been doing is our P7 ENTERPRISE SHOW called Ye-Ha, coming soon in June!🐎
Also every P7 are going for their high school transition, we can't wait!😆😆😆
Finally there has been a raffle for everybody who has read a book and passed a AR test. They got a raffle ticket to try to win a free meal with Mr Reid and Mrs Hiroz. If you won, you get a free lunch from wherever you want in the local area next Tuesday 😁
Thank you for reading...from the P7 House Captains!!